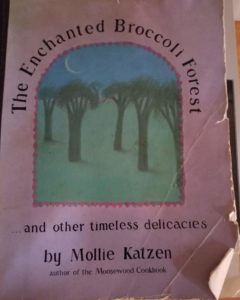 Mollie Katzen, The Enchanted Broccoli Forest: and other timeless delicacies, Ten Speed Press, 1982.
This has been a go-to book when we're in the mood for vegetarian cooking, or just want excellent recipes to use the bounty of the garden.
We also own her canonical Moosewood Cookbook, and Sundays at the Moosewood Restaurant, but this is the one we pull of the shelf most often. We bought it about 1987.